Description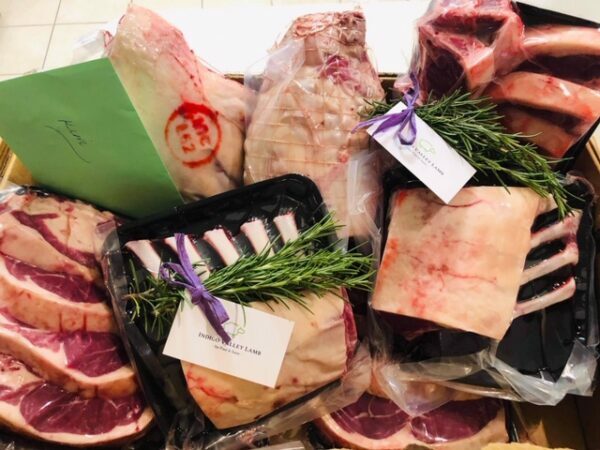 Your Indigo Valley Lamb Premium Sizzle pack contains the following delicious cuts:
2 X 4 Point Racks of Lamb
The most tender and juicy cut of lamb. Enjoy these fresh and simply oven baked with a crust of rosemary, olive oil and salt to allow the natural flavours of the meat to shine.
1 big Leg of Lamb
A butterflied leg of lamb ready for you to marinate and cook on the BBQ for succulent and juicy lamb.  Great for entertaining!
6 thick cut Loin Chops
Cook on a hot BBQ for amazing flavour, caramalisation and a touch of char.
3 thick cut Rump Steaks
Juicy and flavoursome and so quick to cook on the BBQ or pan fry.
12 Lamb, honey and rosemary sausages
So tasty and moreish!  Ideal cooked on the BBQ.
A bag of bones for your furry friends!
Delivery options:
Your IVL Premium Sizzle pack will be delivered in approximately 10 to 14 days from placing your order.  The delivery / pick up date will be confirmed with you via email upon receipt of your order.  If you would like to request any changes to the cuts of lamb in your pack please request these in the comments section when you place your order  and we'll be in touch to let you know if we can make it work!
Local pick up / delivery
We provide free pick-up points monthly at the Albury-Wodonga Farmers Market & Canberra Southside Farmers Market.  Keep a watch on our Facebook page for updates.
We can also deliver direct to your home in Rutherglen, Corowa, Wodonga, Albury and surrounding areas. Please advise your address at check out we'll be in touch to arrange delivery / pick up.
Melbourne Deliveries
We host a monthly 'Pick up Party' at Albert Park Lake in Melbourne.  Please select this option and we will email the details, date and time to you.  A delivery fee of $10.00 per order applies.
Delivery direct to a home address in metro Melbourne and some parts of regional Victoria is also available upon request. Please select this option upon check out and we'll be in touch to arrange the delivery time & date. Direct to home delivery fee is $35.00 per location.